Taranaki A have defeated Manawatu A for the Christie Cup win 13-11.
The tie was level at 6-all after singles, then 11-9 to Taranaki after doubles. Taranaki clinched the victory by winning the top two combines; Ajeet Rai/Alice Caskey won in straight sets and Jordan Fleming/Nikayla Barnard won 6-0 3-6 7-5. Read a report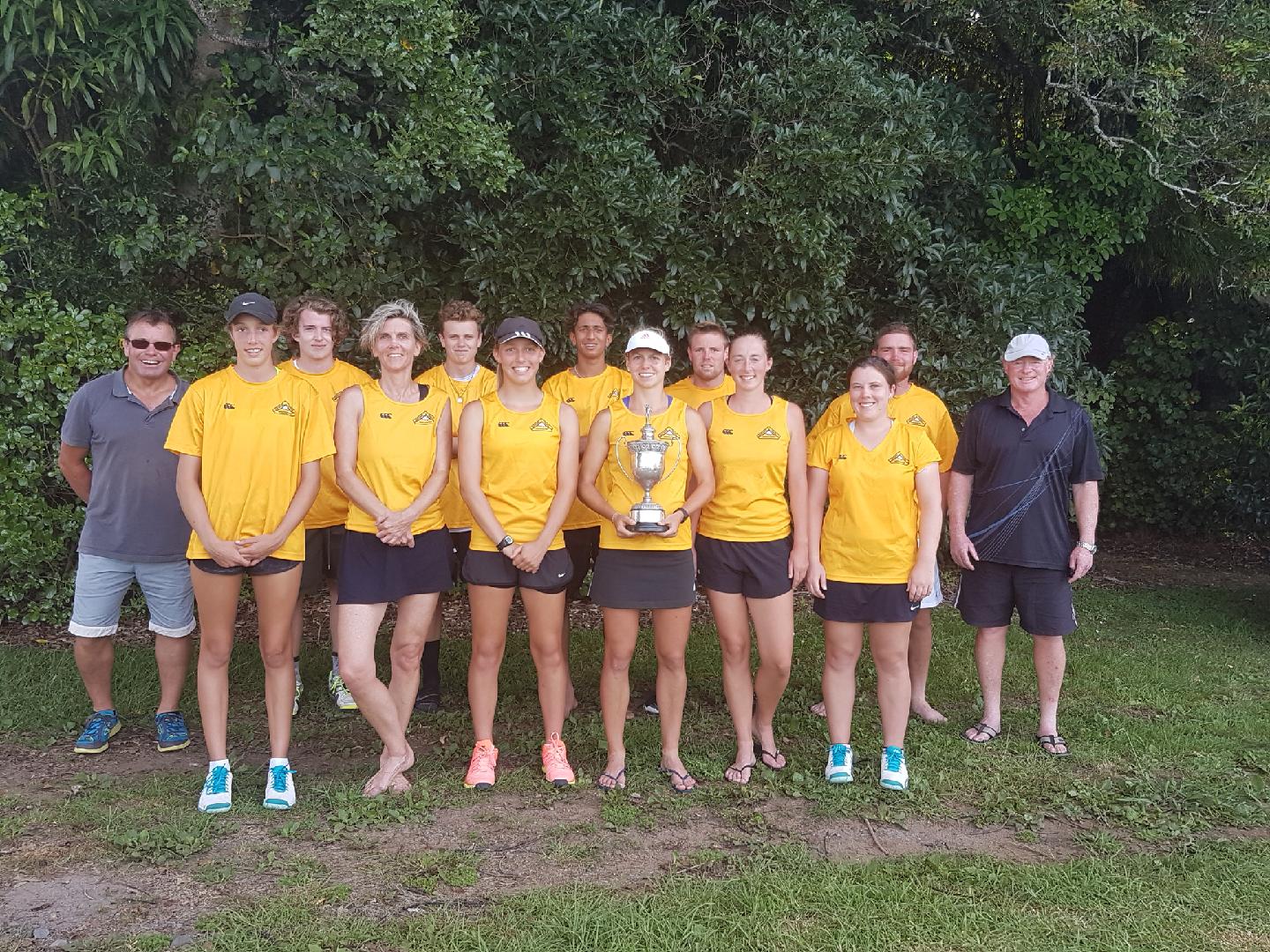 Taranaki B beat Manawatu B for Cleland Cup win
23-1

Upcoming tournaments:
1st New Plymouth Tier 3 Junior and Senior Open - see below.

Taranaki Junior Calendar 2017/18
A Grade Result Sheet (Word 93-97)

17 March 2018
Soffe Cup
Pukekura 14 Rotokare 2
Wilson Trophy
Stratford 7 Pukekura 9
Sumpter Trophy
Waitara 3 South Combined 13
Read A Grade Finals review
Fours
Pukekura Green 1 Waiwaka1 5

A Grade Rules 2016-17
Club Transfer Form
Affiliation Refund form
Taranaki Junior Representative Selection Process

Official Supplier & Sponsors





__________________________


(Formerly TopDog)
2017/18
Final Soffe Cup Points Ladder as at 3 Mar 2018

RE/MAX Pukekura
101.5
Central Finance Rotokare
88
Bayleys Huatoki
72.5
Oakura
66.5
Farmlands Okaiawa/Manaia
62.5
Pihama
51
2017/18
Wilson Trophy Points Ladder as at 3 Mar 2018

Thomson O'Neil Stratford
136
Inglewood Club Inglewood
134
RE/MAX Pukekura
132.5
Hawera
108
McDonalds Real Estate Matapu
88.5
Rotokare
75.5
Oakura
67
Bayleys Huatoki
57
2017/18
Sumpter Trophy Points Ladder as at 3 Mar 2018

Waitara
109
South Combined
107
RE/MAX Pukekura Yellow
105
Waiwaka
78
RE/MAX Pukekura Green
73.5
Oakura
61.5
Bayleys Huatoki
16
2017/18
Fours Points Ladder as at 4 Mar 2018

Pukekura Green
35
Waiwaka 1
30
Pukekura Yellow
27
Waiwaka 2
18
Hawera
10
*awaiting results
---
M O R E N E W S
New A Grade Result Sheet (Word 93-97) template is available above. Limited to 4 singles, 4 doubles and 4 combines and also has the details of who is to receive results. Team captains can type their teams into the Word document and print off for the match, or print off the template and fill out before play.
Check out the latest news regarding Tennis in Taranaki.


W H A T ' S N E W
2018 North Results and Points updated as at today.
2018 South Results and Points updated as at 18 Mar.



U P C O M I N G E V E N T S
13 April - Taranaki Tennis Prizegiving, De Canta restaurant, NP.
14-17 April - 1st New Plymouth Tier 3 Junior and Senior Tournament. Download an entry form/fact sheet.


R E C E N T T O U R N A M E N T R E S U L T S
South Taranaki Grand Prix 3 Dec 2017



C O N T A C T T A R A N A K I T E N N I S
Email the association at taranakitennis@xnet.co.nz
News Draws Results Points Events Juniors Honour Roll Contacts Links