23 May 2008
Taranaki to host Davis Cup tie
The Davis Cup by BNP Paribas tie between New Zealand and China will be held in New Plymouth on 19-21 September this year. This important tie is the final of the Asia-Oceania Group II competition in the Davis Cup in 2008.
A comprehensive and integrated bid from Sport Taranaki, supported by the New Plymouth District Council, Stratford District Council, South Taranaki District Council, Venture Taranaki, Taranaki Tennis and the sporting community of the region, was accepted by Tennis New Zealand yesterday. Support for the bid was also provided by TSB Bank Chief Kevin Rimmington, as well as Mayor Peter Tennent.
The Taranaki bid edged out other strong proposals to host the event, from Invercargill, Blenheim, Hamilton, Auckland and North Shore - indicating a nation-wide interest in hosting the tie, and reflecting the healthy state of interest in tennis in New Zealand.
"It's appropriate that this important Davis Cup tie is to be hosted in New Plymouth, as Greymouth Petroleum - which has its major operations in and offshore Taranaki - is the principal sponsor of Peak Performance Tennis in New Zealand, which includes the Greymouth Petroleum NZ Davis Cup Team," says Tennis NZ CEO Steve Walker.

"Also we were very impressed by the Taranaki bid in the way it integrates the resources of the region, and the way it pulls in widespread community support for the Davis Cup tie."
<![if !vml]>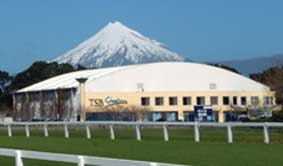 <![endif]>
The Davis Cup matches will be held in the 2,400 seat-capacity TSB Stadium. A roll-out tennis court surface will be installed 2 weeks in advance, to allow the New Zealand team time to practice on the indoor surface.
"Under Mount Taranaki there is a positive feeling that manifests itself in our communities' taking on and delivering major events to a high standard. We promote Taranaki as 'The Region Like No Other' - and this is why nothing is too difficult, everything is possible," says Sport Taranaki CEO Howie Tamati.

"In submitting our bid we do not just want to host the Davis Cup Home Tie, we want to share in its success with everyone involved."
It's anticipated that there will be much interest in this Davis Cup match - being so soon after the Beijing Olympics, and the final of the Asia-Oceania Group II competition this year. A win will put New Zealand up to the level that Australia has played at in the Davis Cup competition this year. In September, Australia has an away game against Chile in a bid to re-enter the 2009 World Group.
The Greymouth Petroleum NZ Davis Cup team has already recorded two emphatic wins in 2008, over Oman and Kuwait - both away. The home advantage against China should be a significant factor in the upcoming tie, and Venture Taranaki are expecting a sell-out crowd for the event.
The NZ Davis Captain and Men's Peak Performance Manager is James Greenhalgh, himself an experienced Davis Cup Player. Greenhalgh is excited with the NZ top male players' progress this year, and is eagerly anticipating the September final, as he leads and structures the team's building momentum for this 2008 campaign.
The Davis Cup is the world's biggest - in terms of numbers of countries competing - annual sporting event. This year there are 138 nations competing.
The semi-finals of the World Group will also be held in September, with matches between Argentina and Russia, and USA and Spain.
New Zealand has competed in the Davis Cup since 1923, with our highlight in reaching the semi finals in 1982, when we played France.
Previously, the TSB Stadium has hosted major sporting events, including,
· Taranaki Mountain Airs National Basketball League games
Western Flyers National Bank Cup Netball games
New Zealand Secondary Schools Netball Tournament
National Indoor Bowls Tournament
National Roller Skating Championships
Tall Blacks versus Hungary international basketball game
Freestyle MotoXXX
and these international acts, Jethro Tull, Jimmy Barnes, UB40, Tina Turner, Billy Connolly, Cirque Eloize, INXS, Motorhead, The Beach Boys, West Life.