11 Dec 2021

Huatoki fronted up in baking hot conditions on their home court to see off Pukekuraís challenge in Soffe Cup tennis action over the weekend.
The home side won 10-6 with the final round of combined doubles proving decisive.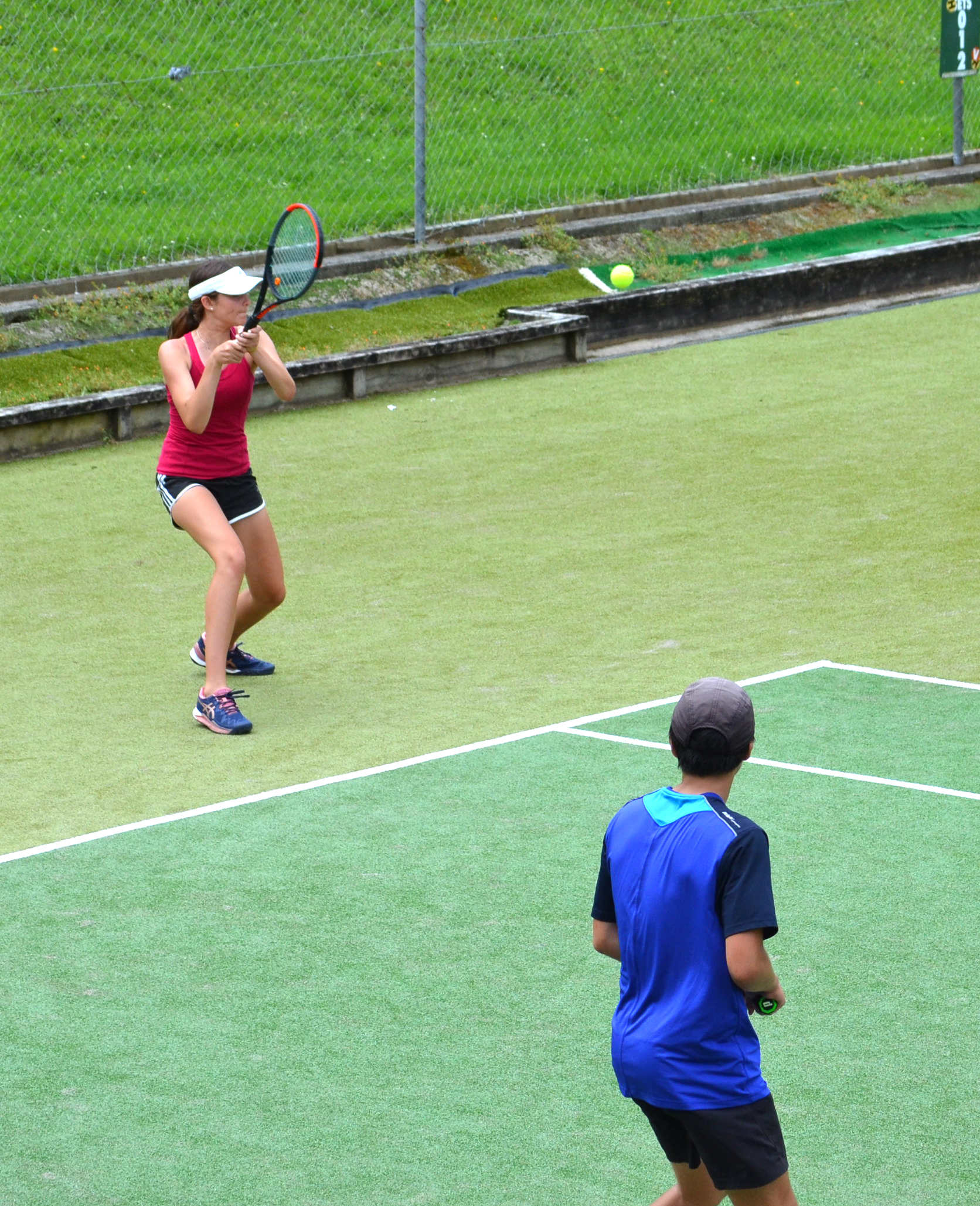 Amrit Rai serves to Tomi Avery while Ross Lilley patrols the net. Pukekura's Lili Lay and Tomi Avery
Amrit Rai was at the top of the Huatoki line-up backed by the big hitting Alistair Nairn and Josh Wormald. Shane Douglas rounded out their singles lineup. Huatokiís women were Sophie Roberston, Chris Wilson, Hannah Siffleet and Diana Carswell.
Rai seemed to have too much firepower for Pukekuraís Jordan Whittleston early, winning the first set 6-1, but Whittleston surged back strongly, taking the higher ranked Rai to the wire in the second set, before losing narrowly in a tiebreaker. Nairn traded some heavy baseline blows with Tomi Avery before coming out on top 6-4, 7-5 while the score was the same between Wormald and Pukekuraís Andrew Moffat, with Moffat taking the match for Pukekura. In the final menís singles Doug Neilson found himself behind early on the scoreboard before finishing stronger to win 7-5, 6-2 over Douglas.
Sophie Robertson resumed her rivalry with Nikayla Barnard at the top of the womenís contest. Robertson won the first set 6-1 before Barnard found something extra to pick up the final two sets and the victory. Chris Wilson drew on years of top-level tennis to take on Lili Lay, who is playing her first full season of Soffe Cup. Lay took out the win in two sets, 6-1, 6-4. Pukekuraís Greer Upson making her debut in the top grade found Hannah Sifleetís game hard work, losing in two sets 6-2 6-2. This will be valuable experience for Upson, who should be encouraged by her first match. The final womenís match went the full distance in the heat, with Pukekuraís Jenny van Praagh eventually outlasting Diana Carswell in three tiring sets. Ross Lilley came into the mix as a doubles specialist for Huatoki, partnering with Rai to see off the challenge of Whittleston and Avery 6-4, 7-5 and the second men's doubles and top womenís doubles also fell Huatokiís way. Pukekuraís Upson and van Praagh combined well to take out Siffleet and Carswell 6-4, 6-4 in the remaining womenís doubles. With just the combines remaining the tie was level but Pukekura could not find a way to break down some solid play from the home side. While none of the scorelines were blowouts , they all ended comfortably for Huatoki.
In the other match Rotokare were riding high with a 15-1 victory over Stratford. Rotokareís depth was evident with a menís lineup of Will Roberts, Blair Crowley, Luis Silva and Kyle Crowley complemented by a well-balanced roster of Karen Cranston, Emma Roberts, Tania Atkinson and Alex Macesic. They proved too strong on the day for the Stratford lineup of Callum Old, Bruce Cleland, Grant Kite, Ross Slinger, Courtney Tippett, Kristen Lourie, Colleen McDonald and Hannah Burroughs. Stratfordís bright spot came in the top doubles where the established combination of Cleland and Old took down Roberts and Rotokareís doubles specialist for the day, Shane Devlin, 10-6 in the super tiebreaker.
Inglewood defaulted to Oakura in the other scheduled match while Okaiawa had the bye.